---
Nathan Bedford Forest
Nathan Bedford Forrest was born on July 13, 1821 in Tennessee where he became a business man. Nathan Bedford Forrest, a Memphis millionaire before the war, with no military training, became possibly the best cavalry leader of the Civil War.

Click the picture above to see more reeenactment photos


He entered the Confederacy in 1861. Later he was made commander of the Calvary.
Nathan Bedford Forrest was born July 13 1821, in Bedford City, Tn. He died October 29 1877, in Memphis, Tn. Prior to the war, he was a planter and a slave dealer. His war service includes:
1861 Pvt. in Confederate army
Raised 7th Tennessee Cavalry
Lt. Col. Fort Donelson
Col. of 3rd Tennessee Cavalry, Shiloh (wounded)
July 1862 Brig. Gen.
Raided communications in Tennessee, Chickamauga
December 1863 Maj. Gen., Given independent command, Fort Pillow and Brice's Cross Roads
Commanded cavalry in Hood's Franklin and Nashville campaign
February 1865 Lt. Gen. Selma
After the war he was a planter and a railroad president. He was touted as the greatest cavalry leader of the war. He was also associated with the Ku Klux Klan for a time after the War.
As a Lieutenant Colonel, in February of 1862, he led his men out of Fort Donelson before it was surrendered. At Shiloh, Colonel Nathan Bedford Forrest was instrumental in the initial attack on April 6, 1862, and in covering the Confederate retreat two days later.

"Forrest is the very devil", Union General William T. Sherman wrote Secretary of War Stanton on June 15th, 1864. Sherman resolved to hound General Forrest to death. " If we must sacrifice 10,000 lives and bankrupt the Federal Treasury, it will be worth it. There will never be peace in Tennessee till Forrest is dead."


General Nathan Bedford Forrest died in Memphis, October 29, 1877, of natural causes.
He was charged with condoning the massacre of the largely black garrison of Union Soldiers at Fort Pillow,Tennessee on April 12, 1864. After the war he became a farmer and worked at a railroad. He also was a leader of the Klu Klux Klan. Nathan B. Forrest died on October 29, 1877.
With no formal military training, Nathan Bedford Forrest became one of the leading cavalry figures of the Civil War. The native Tennesseean had amassed a fortune, which he estimated at $1,500,000, as a slave trader and plantation owner before enlisting in the Confederate army as a private in Josiah H. White's cavalry company on June 14, 1861. Tapped by the governor, he then raised a mounted battalion at his own expense.
His assignments included: lieutenant colonel, Forrest's Tennessee Cavalry Battalion (October 1861); colonel, 3rd Tennessee Cavalry (March 1862); brigadier general, CSA July 21, 1862); commanding cavalry brigade, Army of the Mississippi (summer-November 20, 1862); commanding cavalry brigade, Army of Tennessee (November 20, 1862 Summer 1863); commanding cavalry division, Army of Tennessee (summer 1863); commanding cavalry corps, Army of Tennessee (ca. August -September 29, 1863); commanding West Tennessee, (probably in) Department of Mississippi and East Louisiana (November 14, 1863 - January 11, 1864); major general, CSA (December 4, 1863); commanding cavalry corps, Department of Mississippi and East Louisiana January 11 - 28, 1864); commanding District of Mississippi and East Louisiana, Department of Alabama, Mississippi and East Louisiana January 27 - May 4, 1865); also commanding cavalry corps, Department of Alabama, Mississippi and East Louisiana January 28 - May 4, 1865); and lieutenant general, CSA (February 28, 1865).
When the mass Confederate breakout attempt at Fort Donelson failed, Forrest led most of his own men, and some other troops, through the besieging lines and then directed the rear guard during the retreat from Nashville. At Shiloh there was little opportunity for the effective use of the mounted troops and his command again formed the rear guard on the retreat. The day after the close of the battle Forrest was wounded. After serving during the Corinth siege he was promoted to brigadier general, and he raised a brigade with which he captured Murfreesboro, its garrison and supplies.
In December 1862 and January 1863 he led another raid, this time in west Tennessee, which contributed to the abandonment of Grant's campaign in central Mississippi; the other determining factor was Van Dorn's Holly Springs raid. Joining up with Joseph Wheeler, Forrest took part in the unsuccessful attack on Fort Donelson which resulted in Forrest swearing he would never serve under Wheeler again.
His next success came with the capture of the Union raiding column under Abel D. Streight in the spring of 1863. On June 14, 1863, he was shot by a disgruntled subordinate, Andrew W. Gould, whom Forrest then mortally wounded with his penknife. Recovering, he commanded a division that summer and then a corps at Chickamauga. Having had a number of disputes with army commander Braxton Bragg, Forrest was humiliated by being placed under Wheeler again. His request for transfer to west Tennessee was granted and he was dispatched there with a pitifully small force. Recruiting in that area, he soon had a force large enough to give Union commanders
headaches. Sherman kept ordering his Memphis commanders to catch him.
When Forrest captured Fort Pillow a controversy developed over reports of a massacre of the largely black garrison. Apparently a massacre did occur there are numerous Confederate firsthand accounts of it. He defeated Samuel D. Sturgis at Brice's Crossroads and under Stephen D. Lee fought Andrew J. Smith at Tupelo. He again faced Smith during August 1864 and then provided the cavalry force for Hood's invasion of middle Tennessee that fall. Finally the force of numbers began to tell when he proved incapable of stopping Wilson's raid through Alabama and Georgia in the final months of the war. His diminished command was included in Richard Taylor's surrender.
Wiped out financially by the war, he resumed planting and became the president of the Selma, Marion & Memphis Railroad, which he helped to promote. Joining the Ku Klux Klan shortly after the war, he was apparently one of its early leaders. Forrest once summed up his military theory as "Get there first with the most men." He died, probably of diabetes, at Memphis on October 29, 1877, and is buried there.
---
(Biography taken from the Confederate Military History, Volume I)
Lieutenant-General Nathan Bedford Forrest in 1865, private of Cavalry in 1861. As Senator Daniel has said, "what genius was in that wonderful man! He felt the field as Blind Tom touches the keys of the piano. 'War means killing," he said, " and the way to kill is to get there first with the most men." He was not taught at West Point, but he gave lessons to West Point. His career was quite as brilliant and devoted in its allegiance to duty in peace as it was in the conflict of arms. His father's family had moved from Virginia, before the Revolution, to North Carolina, where every member able to bear arms at that time fought in the cause of independence. His parents moved thence to Bedford county, Tennessee, where he was born July 13, 1821. In 1834 he moved with his father to Marshall county, Mississippi, where the latter soon died, leaving young Forrest to support the widow and family with no resources other than a small hill farm. He undertook this work with such devotion and energy, that while neglecting his own education he provided liberally for that of his brothers and sisters, and going into business at Memphis became able to purchase a large plantation, and at the outbreak of the war was one of the wealthiest planters in Tennessee. Soon after entering the Confederate service June 14, 1861, as a private in White's mounted rifles, he obtained authority to raise a regiment of cavalry, the equipment of which he purchased at his private expense at Louisville. With great ingenuity and daring he brought these supplies to Memphis after eluding the Federal authorities and defeating a body of troops with a force of seventy-five Kentucky Confederates he had called to his aid. With his regiment he joined the forces at Fort Donelson, and after distinguishing himself in the conflict with the Federals, led his men through the enemy's lines when surrender was determined upon. Joining Albert Sidney Johnston, he was in the heat of the fight at Shiloh, and though wounded refused to leave the field until the safety of the army was assured. Subsequently, the Federals having occupied middle Tennessee, Colonel Forrest made a series of brilliant cavalry movements into that territory that made his name famous throughout America Promoted brigadier-general July 21, 1862, he hung upon Buell's flank during the movement into Kentucky, protected Bragg's retreat, and while the army was in winter quarters actively covered the Federal front at Nashville, continually doing damage to the enemy. In 1863, in an effort to break Rosecrans' communications, he entered Tennessee with less than one thousand men, captured McMinnville, and surprised the garrison of 2,000 at Murfreesboro, capturing all the survivors of the fight, including-General Crittenden. General Streight, having started on a cavalry raid to Rome, Ga., was pursued and caught up with, and so impressed by Forrest's demand for surrender, that he turned over his entire command, which was in such disproportion to their captors that Forrest had to press into service all the citizens in reach to assist in forming an adequate guard. In the great battle of Chickamauga he commanded the cavalry of the right wing, and was distinguished in the fight, but he was so dissatisfied with the incompleteness of this Confederate victory that he tendered his resignation. Instead of its acceptance he was promoted major-general and assigned to the command of all cavalry in north Mississippi and west Tennessee, and the guardianship of the granary of the Confederacy. With a small force he entered west Tennessee and recruited several thousand hardy volunteers, which, with some veteran troops, he welded into the invincible body known as" Forrest's Cavalry." In February, 1864, General Smith with seven thousand mounted men was sent against him in co-operation with Sherman, but was utterly routed at Okolona and Prairie Mound. In return Forrest rode through Tennessee to the Ohio river, and captured Fort Pillow, Union City and other posts with their garrisons. In June 8,300 Federals under General Sturgis entered Mississippi. Forrest had only 3,200 men, but at Brice's Cross Roads he struck the straggling Federal column at its head, crushed that, and then in detail routed successive brigades until Sturgis had suffered one of the most humiliating defeats of the war, losing all his trains and a third of his men. Gen. A. J. Smith renewed the invasion with 14,000 men, but retreated after a desperate battle at Harrisburg, near Tupelo. Reorganizing his beaten forces Smith again advanced with reinforcements from Memphis, and Forrest was compelled to foil the enemy by taking half his force and making a sixty-hour ride to Memphis, the daring entry of which compelled Smith's rapid retreat. Then for a time General Forrest made havoc with the Federal transportation, garrisons and depots in Tennessee, exploits crowned by the capture and destruction of six million dollars' worth of the enemy's supplies and a gunboat fleet, at Johnsonville,--"a feat of arms," wrote Sherman, "which I must confess excited my admiration." After the fall of Atlanta he joined Hood at Florence, and fought at Franklin and Nashville. As commander of the rear guard of the retreating Confederate army, Forrest displayed his most heroic qualities, with hardly a parallel but the famous deeds of Marshal Ney while covering Napoleon's retreat from Moscow. In February, 1865, he was promoted lieutenant-general, and given the duty of guarding the frontier from Decatur, Ala., to the Mississippi. With a few hundred hastily gathered men he made his last fight at Selma, and on May 9 he laid down his arms. It is stated that he was 179 times under fire in the four years, and he said, "My provost marshal's books will show that I have taken 31,000 prisoners." After the war he was president of the Selma, Marion and Memphis railroad until 1874. He died at Memphis, October 29, 1877. By European authority he is pronounced the most magnificent cavalry officer that America has produced.
---
At the beginning of June 1864, Maj. Gen. Nathan Bedford Forrest set out with his cavalry corps of about 2,000 men to enter Middle Tennessee and destroy the Nashville & Chattanooga Railroad, which was carrying men and supplies to Maj. Gen. William T. Sherman in Georgia. On June 10, 1864, Forrest's smaller Confederate force defeated a much larger Union column under Brig. Gen. Samuel Sturgis at Brices Cross Roads. This brilliant tactical victory against long odds cemented Forrest's reputation as one of the foremost mounted infantry leaders of the war.

Result(s): Confederate victory

Location: Prentiss County and Union County

Campaign: Forrest's Defense of Mississippi (1864)

Date(s): June 10, 1864

Principal Commanders: Brig. Gen. Samuel D. Sturgis [US]; Maj. Gen. Nathan Bedford Forrest [CS]

Forces Engaged: Three-brigade division of infantry and a division of cavalry (about 8,500 ) [US]; cavalry corps [CS]

Estimated Casualties: 3,105 total (US 2,610; CS 495)
Forrest, Nathan Bedford
1821–77, Confederate general, b. Bedford co., Tenn. (his birthplace is now in Marshall co.). At the beginning of the Civil War, Forrest, a wealthy citizen of Memphis, organized a cavalry force, which he led at Fort Donelson (Feb., 1862) and Shiloh (April). He assumed command of a cavalry brigade in the Army of Tennessee (June) and in July captured a large Union garrison at Murfreesboro. He was made a brigadier general. With a newly recruited command he effectively cut Grant's communications in a raid through W Tennessee (Dec., 1862). After foiling a Union attempt to cut the railroad between Chattanooga and Atlanta (May, 1863), Forrest participated in the Chattanooga campaign until trouble with Braxton Bragg led him to accept a command in N Mississippi. He was promoted to major general (Dec., 1863); captured Fort Pillow (April, 1864); defeated a superior force at Brices Cross Roads, Miss. (June); and held Gen. Andrew Jackson Smith to a drawn battle at Tupelo, Miss. (July). These Union failures against Forrest caused Sherman, then advancing on Atlanta, much concern for his communications. Forrest commanded all the cavalry under John Bell Hood in that general's Tennessee campaign (Nov.– Dec., 1864) and was promoted to lieutenant general (Feb., 1865). He surrendered shortly after his defeat at Selma, Ala., in April. After the war he engaged for a time in railroading and also was important in the activities of the Ku Klux Klan. Forrest, probably the greatest Confederate cavalryman, is one of the most interesting figures of the war.
---
The Rebel Yell | Civil War Map Exhibits Timeline State Battle Maps| The Civil War Home Page - People
Historical Documents for sale | Civil War Currency for sale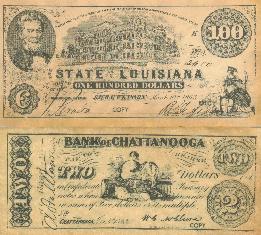 Sources:
U.S. National Park Service
U.S. Library of Congress.
---
---
Page Created 3/16/99
Marvin Schubert
Copyright © 1997 [Jack's Publication Enterprises]. All rights reserved.
Revised: September 16, 2003.
---
This page has been accessed
times since June 1, 2001